Restroom, lavatory, water closet… whatever you choose to call it, who said it can't be a glam space in your house? No need to take on a full-blown renovation project to make a bathroom beautiful and modern. Some more good news is that you can completely transform your bathroom within a matter of a day or two.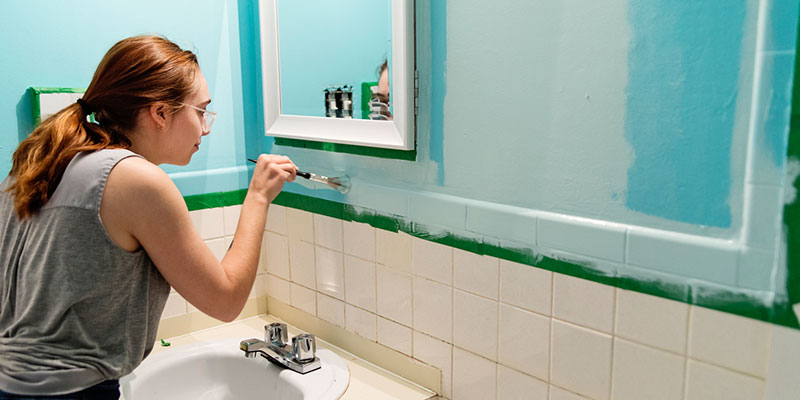 Here are a few simple steps to get you started on your bathroom painting project:
Choose the right paint. The colors are limitless, as you've probably noticed as you stroll by those pretty color swatches at the hardware store. Choose basically anything that strikes your fancy—whites for a fresh, clean look or to brighten up a room with no windows, or a deep, dark green or blue for a sleek, modern vibe. For something a little more fun, try a turquoise or purple hue, or even a spunky bubblegum pink. Anything goes. However, the best kind of paint for a bathroom has a mildew-resistant additive. Glossy paints are also resistant to moisture. You can use a bathroom primer with mildew additive to contribute to the paint's longevity.
Clear out your space. Remove any wall fixtures, like towel hangers, lighting, mirrors, or artwork. Also remove the light-switch covers to make bathroom painting quicker and easier.
Prep the space. Clean the walls and use blue paint tape to cover any baseboards or trim that you are not painting. Lay out some type of covering for your floors. Use caulking to seal off any gaps along the baseboards or trim and fill in any holes in the walls with some spackle.
Gather your tools. A large paint roller is essential. However, you are also going to need a smaller angular paint brush for getting around corners and harder-to-reach areas, like around the vanity, toilet, and along the ceiling and trim.
Get started! Now's the fun—take your time and see the magical transformation of painting your bathroom. If you aren't up for the task of bathroom painting yourself, our team at Superior Painting And Remodeling LLC is available to get the job done.